April 7, 2020 |

Categorised in: Blog
---
The Financial Impact of the COVID-19
During the past month, it has become evident that the COVID-19 outbreak has had a tremendous impact on all Australian businesses. While it is true that some have benefitted from the current situation, the absolute majority finds themselves and their business struggling to stay afloat. The temporary legislation and consequent banning of most aspects of our daily life have taken a huge chunk out of businesses cash flow.
The business that will survive this crisis and the upcoming recession are those who have, in the most efficient way, adapted to the ways of conducting business. What is meant by that? During the past years, we have seen rapid online growth and more and more business is conducted online, with the COVID-19 outbreak the online presence has accelerated.  There is still a demand for most services and whoever manages to capture the market online will inevitably become a market leader. Consequently, if your business might have struggled in 'the real world' now might be a chance of shifting that balance and reaching a new customer base.
Formulating your digital marketing strategy
As we have made the leap to conducting our businesses online, it is more important than ever to have your digital marketing strategy in place. Amire has some key takeaways for why this is important:
1. Billions of consumers across the globe & Australia are staying home (SELF-ISOLATION) and avoiding stores and shopping centers.
People are spending more hours online than ever before. There is an opportunity to reach them NOW while they're becoming accustomed to a new reality.
A huge percentage of them WILL be buying goods and services ONLINE over the next several months OUT OF NECESSITY. Please see the APAC marketing budget index below…while Digital Marketing (including mobile) growth has slowed it is still in the growth phase. Mobile presents an opportunity to connect directly to people.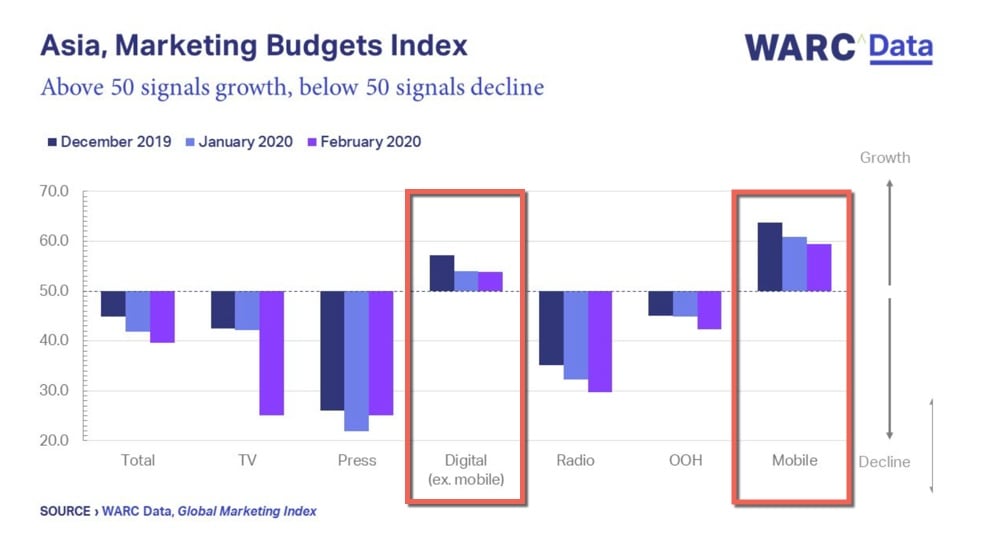 2. Successful advertising is born out of consistency.
Large changes to an account in terms of spend does have long term impacts on overall account performance and efficiency. It can take several months to get back and regain the account performance.
3. Remember, advertisers, are following their first intuition – which is to reduce spend.
What this means is that for all the advertisers that remain is that their competition will be minimal during this time. Combine this with Facebook and Google's love of consistency – this is the time to push through unless you are one of the businesses that have been directly impacted such as travel, hospitality, etc.
4. If you are running SEO, now is the time to build ground over the competitors who stop or reduce spending.
If you are running paid ads – the competitive landscape has lessened and there is still plenty of search demand. Please see the dramatic increase in overall search volume below: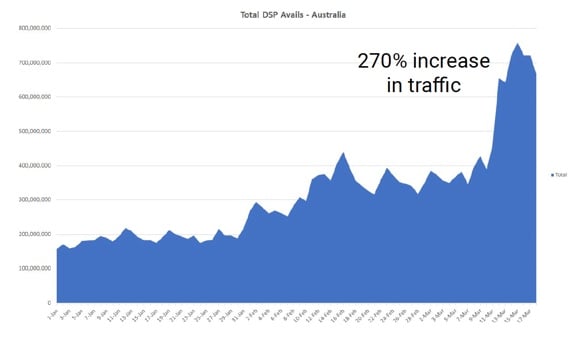 Remember Search is reactive – which means if fewer people search, then your ads show less often and your ad spend reduces. Another important thing to remember is to update your Google business listings with any updated hours or update your description with changes in business practices. For example, if you offer free consultations, maybe change this to include online consultations.
Amire is here to support you through the COVID-19 pandemic
The Amire team would like to send our thoughts out to everyone who has been affected by COVID-19. We would like to inform you that we have taken the appropriate measures to ensure the highest priority on the health and safety of our team and customers.
We are here to help your business navigate the uncertainty and ensure you can reap the potential benefits in this environment. The reality is the next several months are an ever-changing landscape, what might be true today may not be tomorrow. However, something that will remain true is that your business needs a solid digital strategy, perhaps now more than ever.
Our team can help you assess your business needs and how we can amplify your service online, potentially for a previously unexplored customer base. Don't hesitate to reach out to us!